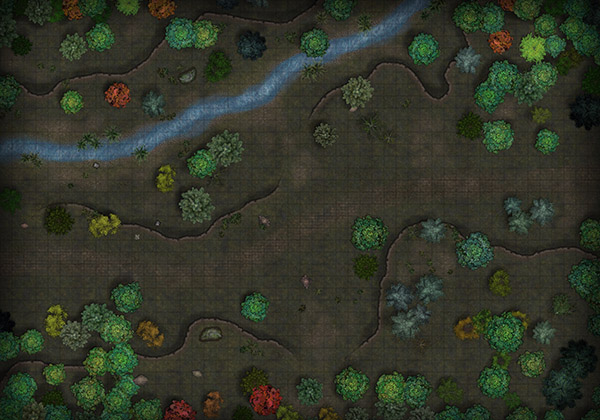 About the map
Another encounter in the forest, but this time its a much larger map – 50×35!
As usual there is gridded and gridless, day and night.
200 DPI JPG maps with grid
Day and Night Versions
Fantasy Grounds Unity and Roll 20 optimized maps.
UVTT
Animated Map
The Urtgen Forest is old. The roots run deep into the fertile soil at the base of the Swordspyne Mountains. Here an old Uthgard road runs between old guard towers. A creek flows between the old stones as it makes it was down to the Weron River. The old growth provides cover not only yo the wildlife, but also any creatures looking to hide among the shadows.
A forest encounter may be one of the most popular encounters in RPG or D&D. This map provides a few interesting features. A small creek to the north could allow creatures to move while hiding their tracks or scent while the multiple small cliffs could give a height advantage to attackers.

Hello adventurers! Thanks for stopping by.
I'm Mike Bielaczyc, an artist, creator of the popular SagaBorn RPG, and a founding sibling of the largest elf ear company in the USA (for real, check it out here).
I hope to not only connect with people who enjoy my work and can use it in their own adventures, but to create a lasting community in the process.
When you subscribe to my Patreon, you not only get every upcoming map I create, but you also gain access to our entire back catalog!
Last 3 Maps: